K-12 Learning Innovation Services
Enhance classroom collaboration & raise productivity in your district.
39% of school districts surveyed plan to procure smart classroom technologies.¹
Traditional lecturing and note-taking are becoming more ineffective with tech-savvy digital natives. However, the right combination of educational technologies can help teachers get these students more interested in learning. With Ricoh's K-12 Learning Innovation Services, we can design classroom technology that raises student engagement, enhances collaboration, increases teacher and student productivity, impresses digital natives with more innovative learning environments, and helps to protect documents, data and other sensitive information.
Inspire students with more dynamic lessons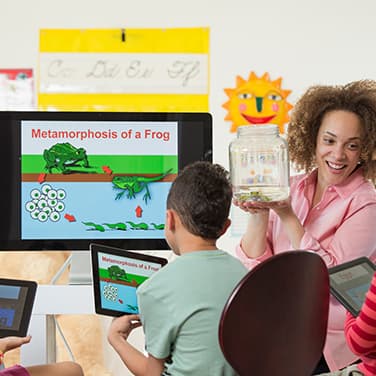 Easily measure and manage your school district's data.
In today's fast-paced world, classroom technology needs to appeal to tech-savvy digital natives with diverse learning styles. Our education consulting team can work with you to get a thorough understanding of your school's specific needs. Then we can design and implement classroom technologies that help get your students excited about learning.
Our advanced classroom collaboration solutions include Visual Communication Services that help with distance learning — providing video access to teachers in remote areas as well as international students. We can also seamlessly integrate new classroom technologies with the solutions you already have in place. If you're looking to implement one to one computing throughout your school district, our team can help to integrate Chromebooks™, iPads® or other devices within your current infrastructure.
In addition, you can instantly boost collaboration and improve classroom management with Ricoh interactive whiteboards (IWB) — also known as interactive flat panel displays (IFPD):
Invite guest speakers to class via video.

Enable students to connect one to one computing devices directly to the boards to stream videos, solve problems and more.

Give teachers the ability to manage the IFPDs from smart devices while walking around the classroom — simplifying classroom management.

Use the Windows® 10-based controller to enhance project management and collaboration by using preferred apps like Microsoft® Office 365™.
Increase teacher and student productivity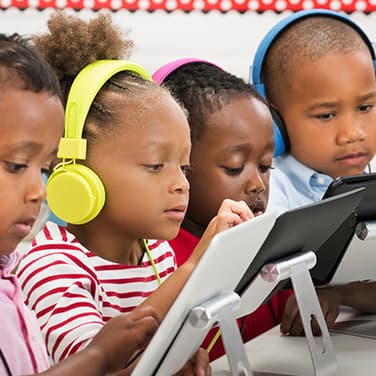 Keep ideas moving in and out of the classroom.
With so much to learn to prepare for higher education and the workforce, and so little time during each school day, students and teachers need to stay as productive as possible. With our IT Services for Education, we can support and maintain your IT infrastructure to help reduce desktop, printer and network downtime — minimizing interruptions to teacher and student workflows.
We can also help you take advantage of the proliferation of mobile devices by giving teachers and students remote access to applications and learning platforms from laptops, tablets and smartphones with our Cloud & IT Services. The cloud let's you empower students by letting them learn in ways that complement how they like to work, such as:
Uploading homework assignments from personal smartphones

Reading assigned texts on tablets while in route to or from school

Typing up papers on personal Macs or PCs
The flexibility of our cloud services can also help you find additional ways to improve the learning experience — including using Google Classroom™ to make managing assignments easier for teachers, providing remote access to Microsoft® SharePoint® to enable real-time digital collaboration, and more.
Deliver powerful, innovative lessons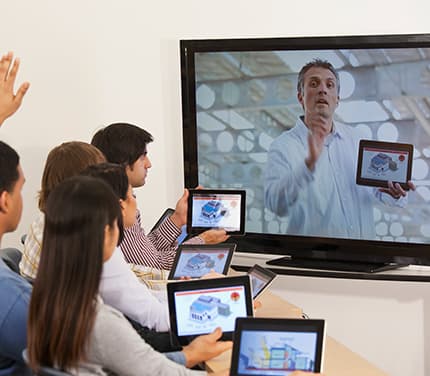 Give digital natives the tools they need to prepare for the future.
With cloud access to a variety of software programs and platforms from both school-provided and personal devices, there are many possibilities for classroom innovations. This digital access provides students with the extra benefit of learning new technologies to help prepare them for future jobs while simultaneously learning the core curriculum.
Ricoh can also help you save money by supporting open educational resources (OER) that improve teaching, learning, assessing and researching processes. We can also provide classroom technology that utilizes Khan Academy and other free educational resources that help with core curriculum learning — providing digital natives with the high-tech learning environments they've come to expect:
Enable teachers to show Khan Academy videos on Ricoh IFPDs to increase student engagement.

Let students work on OER Commons practice exercises on their one to one computing devices during class.

Give students the ability to work in groups on standards-aligned content in digital learning environments.
Our education consulting team can help design classrooms of the future and meeting rooms for faculty and staff that feature monitors on the walls, iPads® that are wirelessly connected to wall monitors, separated collaboration spaces that are powered by technology for group projects, and so much more.
Minimize data security threats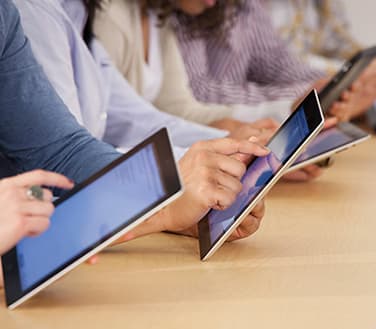 Help protect documents, data and other sensitive information.
When designing and implementing high-tech learning environments, we can seamlessly integrate the new technologies into your current infrastructure. This gives us the ability to identify vulnerable endpoints across your network, and design an overall cyber security strategy to help protect information that's shared throughout your district — both on your network and remotely.
Access to digital classrooms should be limited to teachers, students, and approved staff members or parents. Our Managed Cloud Services let you require passcode authentication for admittance to platforms from any device, so students and teachers can connect and collaborate without worry. Plus, we provide cost-effective, pay-as-you-go cloud solutions that make it easy to scale up to meet the needs of an increasing student body.
In every school district, data security goes beyond cyber threats and vulnerable network endpoints. It's also important to lock students out of certain digital areas, such as learning management systems where they could potentially change grades or view fellow student data. And, when you have students using one to one computing devices or desktop computers, internet filtering is critical to helping your district stay CIPA compliant.
Our consulting team can help with these security protocols and more to better protect your students' schoolwork and personal data.
See more on our services & solutions
Ricoh MFPs for education
Enable students, teachers and staff to scan documents to the cloud, help protect data with enhanced security, and print, scan, and share information quickly and efficiently.
View the products
Case Study: Lehigh Valley
Learn how Lehigh Valley Regional Charter School created more interactive learning environments.
Read the case study
1"Vertical Brief: K-12 Technology." Center for Digital Education. January, 2018.