Student Records
Centrally manage student data and streamline administration processes.
Advancing technology seems to have also advanced stakeholders' expectations (students, parents, others) for transparency and easy access to institutional information, because they receive that in many other aspects of their lives.¹
Throughout all stages of the college experience, student data goes through step-by-step workflows that rely on staff in siloed departments to take decisive actions. Unfortunately, without a centralized, intuitive data management system, making informed decisions can be problematic — leading to disruptions in processes and errors caused by data redundancies. With Ricoh's Student Records, we can centralize and categorize your data to make it easier to access and manage, helping your staff to work more efficiently.
Digitize student records to improve campus workflows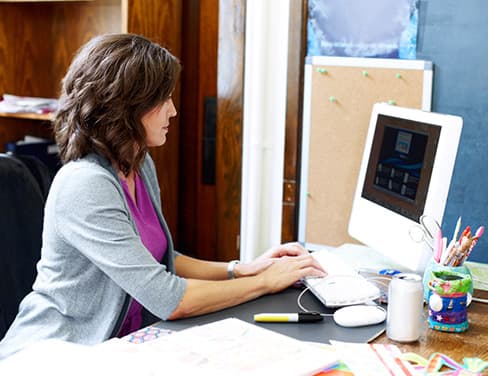 Streamline university administration processes with strategic workflow agility.
When data needs to be vetted by various siloed departments before it can move forward, you need a centralized content management system that provides real-time access to information regardless of the platform being used to capture it.
Ricoh's enterprise services design team can create a data management system to:
Digitize paper documents — such as incoming transcripts and medical records — and transform legacy data into digitized, indexed documents for quick and easy access.

Centrally locate student records so that campus-wide departments can avoid data redundancies and keep work moving steadily.

Connect and automate data processes to improve communications and increase productivity.

Limit information silos by connecting your enterprise content management (ECM) system with other departmental systems.
By digitizing information and using informed decision-making to create the way that data flows throughout your institution, we can help your university achieve the operational excellence you need to help retain digital natives and improve student outcomes.
Stay agile when working with student data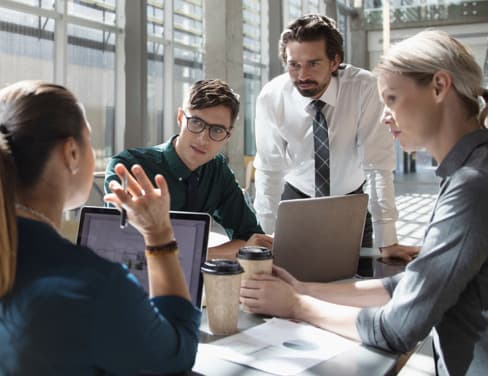 Make data in your student information system easily accessible campus-wide.
When it comes to workflow agility, university staff need the ability to manage internal administrative tasks while also communicating where students are in the process with other departments. Some of the ways we can help you to streamline workflows within and between university departments include:
Customizing, tracking and analyzing your outreach campaign when recruiting students

Converting paper documents — such as university transcripts — into easily accessible digital data during the admissions process

Enhancing the student experience by simplifying course registration each semester to help increase student retention

Streamlining data management post-graduation — making transfers to advanced educational institutions and alumni relations run smoothly
We can also streamline how staff in different departments access information as it changes hands by scrubbing your student data to reduce redundancies, and feeding it into your student information system (SIS) to make the data easier to locate and manage. This also enables staff in various departments to easily tap into the same data analytics; helping to ensure that the student data you use is accurate and consistent during every step of each student's educational journey.
Improve student and faculty collaboration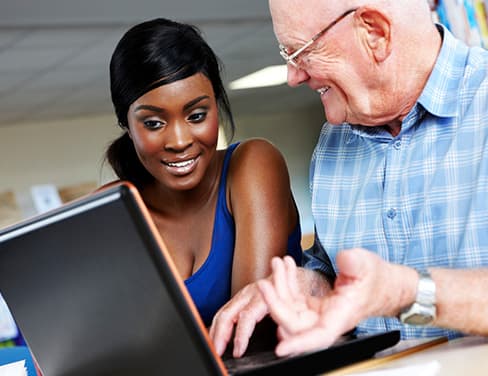 Optimize your learning management systems and keep ideas moving campus-wide.
When you enable students and professors to collaborate via Canvas™ or other learning management systems (LMS) via smartphones, tablets and laptops, you can significantly increase student engagement. Ricoh makes it easy by letting you integrate paper documents — such as lesson plans, reading materials and tests — so professors can improve the learning experience for digital natives by empowering them to access these documents with the devices they've become accustomed to using.
Plus, you can streamline workflows and increase productivity for students, faculty and staff by supporting various content management platforms with cloud technology:
Scan documents into learning management systems in seconds, directly from Ricoh multifunction printers (MFP).

Reduce on-premise servers and free up IT resources, so IT can focus on more digital transformation strategies.

Easily connect to other popular applications like Google Drive™, Dropbox™, Office 365™ and more.
Help safeguard student records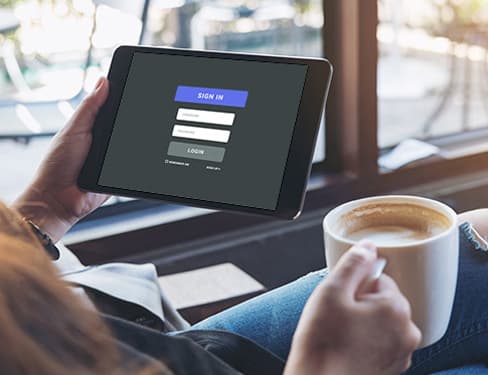 Implement solutions that support compliance and help reduce student data risks.
When a high number of employees are accessing student data across campus on a variety of devices, you want to make sure security protocols are in place to help protect this information. We can provide authentication solutions that require employees to use passcodes to access certain types of data — helping to ensure that faculty and staff can only access the data they need.
As different departments become accountable for student data over the course of a student's time at the university, our File Analysis Services can help to make ownership of this data clear by mapping it as it moves through the process. Creating an audit trail of data ownership is a proactive approach to eDiscovery that helps you to reduce litigation risks and streamline procedures for staying compliant with FERPA and other industry regulations.
We can also help to improve information governance and cyber security by tailoring a variety of out-of-the-box data security features to fit your university's specific needs, including:
Role-based authorization

DoD 5015.2- and VERS-certified records management

Security watermarks

Cloud backup for disaster recovery
See more on our solutions
1"Student Success: Everybody's Business." Educause Review, 2015.