Managed Review Services
Document review with a technology-driven approach
Reviewing volumes of data can be an expensive, daunting task with little margin for error. If any part of it is mishandled or done improperly, evidence can be missed or rendered inadmissible – meaning you may face court sanctions potentially jeopardizing the outcome of your case. Our Managed Review Services can alleviate the burden of document review from your legal team with scalable access to expert, professional contract attorneys.
Get scalable attorney coverage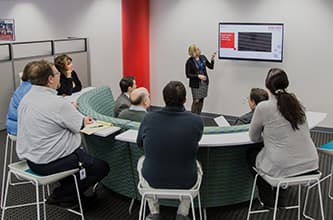 With the exponential growth in electronic evidence, reviewing masses of documents in-house is no longer realistic or cost-effective. And it can be challenging to maintain the right number of personnel for each case.

That's why we offer scalable attorney coverage with flexible pricing models, making it possible for you to maximize productivity and manage costs. Our Managed Review Services are tailored to your needs and include a review director, dedicated project manager, and licensed attorneys with quality control checkers. As your partner, we work with you to determine the appropriate team for your case and get your review completed in a timely and cost-effective manner.
Read more here
Security in review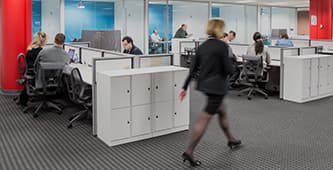 Ricoh review attorneys are licensed and background checked. Our review service provides nationwide service with state-of-the-art data security, network infrastructure, and fully managed network access. Reviewers are also required to login with multi-factor authentication offering greater controls over client data. 
Technology-driven review
Our Review Project Managers and contract attorneys optimize and streamline processes to get you the information you need, fast – boosting your productivity and helping you meet the toughest deadlines.

Our experts specialize in using advanced technologies like Technology Assisted Review (TAR) workflows to efficiently organize, search, and reduce data sets to only the most relevant documents. This technology-driven approach helps get to your most critical information fast. And utilizing TAR means the deepest dive into your ESI and may result in significant review cost savings. In fact, our review project managers leverage analytics on over 80% of the matters we work on.
Remote managed review
When local health mandates meant pausing services in our review facility in St. Louis, our agile technical support team snapped into action and migrated all of our review attorneys to a secured remote desktop environment overnight. Remote desktops only access Ricoh's Microsoft® Azure™, so client data never leaves our industry-leading cloud environment.
And new remote logins provide additional security with:
Additional factor in our multi-factor authentication for greater controls over your data

Thoroughly vetted remote staff of licensed and background checked attorneys

100% paperless for enhanced control and security

Remote desktops only access Ricoh's Microsoft® Azure™, so your data never leaves this industry-leading cloud environment

No download, print, email, or copy capabilities from remote desktops

Additional security via USB encrypted key authentication