With a long history of innovation, we are uniquely positioned to form solid and mutually beneficial partnerships that enable us to engage and connect with our diverse audiences while helping our clients meet their unique business objectives. For over 80 years, Ricoh has transformed the way people work with breakthrough technologies that help businesses innovate and grow. Our focus has always been to envision what the future will look like so that we can help prepare you for success. Today, that means empowering digital workplaces with our broad portfolio of services, solutions and technologies.
Philadelphia Eagles
Improving efficiency from the front office to the gridiron
For a pro football team, information is central to making sure no one fumbles. Through our partnership, the Philadelphia Eagles leverage our technical innovation, as we continually evaluate how their document-related information is managed and delivered.
Consolidating the fleet: Our Managed Print Services team analyzed, right-sized and installed a fleet of Ricoh MFPs and a color production printer. By printing marketing materials and play cards in-house, the Eagles have decreased paper and toner usage to significantly reduce costs thanks to efficient print policy changes.
Getting greener: The Eagles are committed to sustainability. We support environmental initiatives with print controls to reduce excess printouts and abandoned jobs; we also provide equipment with energy-conserving features built in. 
High device reliability: RICOH @Remote automates meter reads and supply alerts, minimizing downtime and accelerating service requests.
Improved document security: Print management software with user authentication capabilities tracks who is printing what on which devices. For coaches and staff, printing is reliable, less complicated and secured.
Access to collaboration technology: An interactive whiteboard (also known as an Interactive Flat Panel Display) is used during the Eagles Post-Game Show to annotate video and images to dissect plays, just like the coaches have the ability to do in their meetings. It's also used on Eagles 360, an online show that airs on PhiladelphiaEagles.com and the Eagles app during each season. Check out the Philadelphia Eagles defensive line coach break down film using Ricoh's Interactive Flat Panel Display, here.
To learn more about our partnership with the Philadelphia Eagles, read the case study or our press release.
Ricoh is a proud partner and provider of the Philadelphia Eagles
Connect and collaborate with Ricoh's Interactive Flat Panel Displays (IFPD)
Ricoh's IFPDs are a modern way to collaborate face-to-face and bring big ideas to life. Team members can connect from anywhere in the world to view presentations, designs and collaborate in real-time.
The University of Texas at Austin Athletics
Digital transformation across campus
Our 20-plus year partnership with The University of Texas at Austin Athletics and across campus is empowering digital transformation – and now includes the Texas Exes Alumni Association and Texas Performing Arts.
Analyzing the fleet: Our partnership with the Longhorns began with a 19-device engagement aimed at streamlining device utilization and cutting costs. Today, our work affects more than 1,000 university devices across campus – which translates into significant annual savings in output costs.
Bringing printing in-house to reduce costs: The Texas Athletics has brought nearly $1 million in previously outsourced printing costs in-house.
Our collaboration services provide a modern, interactive digital experience for fans, alumni, students and donors. Ricoh is now preparing to equip their newly-renovated student-athlete academic center with additional interactive tools to help them better collaborate on group projects. This will help further the University's goal of delivering a superior academic experience.
To learn more about our partnership with the University of Texas, read the case study 
Ricoh is the official workplace technology provider of University of Texas Athletics, the Texas Exes Alumni Association and Texas Performing Arts
Hendrick Motorsports
Enhancing collaboration on and off the track
As twelve-time NASCAR Cup Series champions, the Hendrick Motorsports team's success relies on many moving parts, acting together, doing their best work at high speeds. That includes on the track – and in the office, with Ricoh as its workplace technology partner.
Empowering digital workplaces: we help drive greater efficiencies, improve process transparency and enhance effective collaboration.
Collaborating remotely: Interactive Flat Panel Displays, projectors, video and unified communication systems enhance collaboration in meetings.
Interconnecting processes for print: RICOH Device Manager NX Lite works with other solutions to provide transparency and management capabilities for Hendrick Motorsports' device fleet, for more efficient use of resources.
Unlocking new levels of productivity: our RICOH Smart Integration Solutions brings new opportunities for productivity with powerful scanning, OCR file conversion, document delivery and mobile printing.
Ricoh solutions can share data quickly, seamlessly and in an intuitive fashion, so even when Hendricks is moving fast, they won't get tripped up by an information pileup.
For more information, read the case study or the press release.
Ricoh is Hendrick Motorsports' Official Workplace Technology Partner
Acura Grand Prix of Long Beach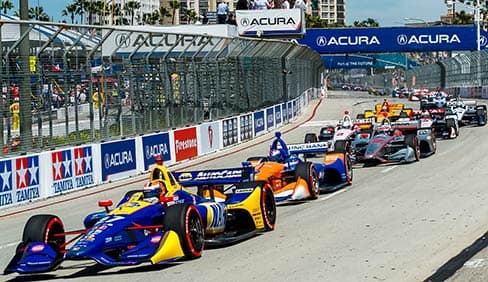 Ricoh helps the Acura Grand Prix of Long Beach stay on track with top notch technology and teamwork
The Acura Grand Prix of Long Beach is the second longest-running INDYCAR Series race in the U.S. that cuts right through the streets of downtown Long Beach, California. A year of preparation comes to a head as hundreds of thousands of attendees and more than 500 members of the press descend on picturesque Long Beach to witness auto racing at its finest. Everything and everyone have to be in place — and there's no time for missteps. 
Innovative technology to produce critical race week information: Ensuring printers run reliably is paramount for all the users — including members of the press who print nonstop throughout the event. 
Dependable printers and service at administrative office: We dispersed the units throughout the office to eliminate the need for long walks back and forth to retrieve prints. 
Reliable and knowledgeable customer service support team: We also provided technical support for the rare occasion when a printer needs service to keep the operations team printing and productive. For race week, Ricoh dedicates two technical support team members to be onsite to troubleshoot any issues should they arise.  
Steady performance since partnership began: "Ricoh's products, personnel and service have been extremely commendable. We're looking forward to continuing on in the relationship for years to come." - Jim Michaelian, President and CEO Acura Grand Prix of Long Beach 
To see more about our partnership with the Acura Grand Prix of Long Beach, you can read the case study. 
Ricoh is the proud print technology and support provider of the Acura Grand Prix of Long Beach.
See more on our solutions
Developing your document and print management strategy
Learn how to lower the costs of your print environment and reduce waste to save on energy and page volume.
View the services
IDC MarketScape names top print security providers
Research leader releases its findings on addressing security, including device-level features and capabilities.
Read the article