Cloud VoIP Services
A business phone system connecting office, remote and mobile employees for anywhere productivity.

Just as voice over IP (VoIP) has definite advantages over traditional office phone systems, cloud VoIP has even more. You still enjoy seamless integration with mobile devices for anytime, anywhere productivity. Your costs are lower (no need for VoIP hardware, security, or maintenance). And you add benefits like increased business agility, enhanced business continuity, reduced bandwidth needs, and less demand on IT resources.
Boost customer and employee satisfaction when every line's portable
You'll enjoy a new level of business agility with cloud VoIP services. Customers and vendors can reach your employees whether they're in the office, on-the-go, or working from home. Teams can collaborate as their mobile devices become integrated business tools.
With our cloud VoIP service, you can have calls forwarded directly or intelligently re-routed to a globally distributed workforce or call center. Calls made remotely can even show identification from your office, helping to reinforce brand awareness and telephony compliance with industry and legal regulations.
Maximize uptime to stay competitive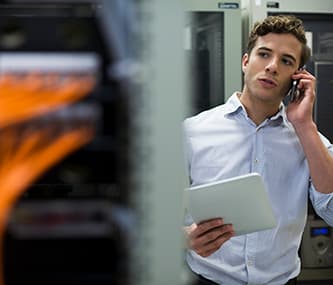 Cloud VoIP services keep you connected even during disasters. With services run from secured, redundant data centers, you will continue to operate no matter what's going on, avoiding common problems with PSTN (public switched telephone network) and locally hosted VoIP.
And thanks to advanced hosted PBX (private branch exchange), calls can go to mobile, home, or other designated device in the case of a network outage.
The multiple fail-safes in the system make it an ideal component of every disaster recovery and business continuity plan.
Scalable, flexible and budget-friendly telephone services
With cloud VoIP, you don't need hardware, dedicated lines, failover, security protocols, or maintenance fees. You pay only for the seats you need, so you never pay for more than you need.

Making the move to cloud VoIP is simple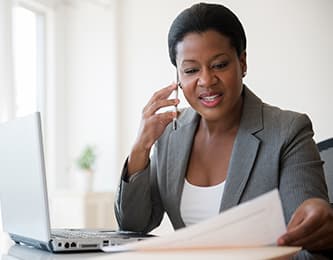 As cloud VoIP services are a hosted infrastructure, setup and are onboarding are simpler. Employees plug in a phone, laptop, or mobile device to your network OR the internet. In moments, they're ready to talk, making it an effective phone solution for a remote workforce.
As your cloud VoIP service provider, we can assist your team in setup. If you'd prefer, our managed IT services team can partner with you to setup and maintain your VoIP services. Whichever level of service you choose, you'll quickly realize the business agility, lower costs, and benefits for remote work.