How retail payment technology is evolving in response to consumer demand
Summary
Is cash going away or here to stay? We surveyed retailers to find out.
Read time: 3 minutes
Cash today, cashless tomorrow?
It seems natural to assume that the continuous evolution of cashless payment technology, accelerated by the Covid-19 pandemic, will ultimately eliminate the use of cash. But there are valid reasons and behaviors that indicate otherwise.
The Service Advantage team at Ricoh, USA surveyed domestic retailers to find out:
Current currency management trends,

Future predictions, and 

How they plan to evolve their payment options for consumers.
What they uncovered may surprise you.
The cashless movement
There is no doubt that a cashless movement is underway. An increasing number of businesses are actively avoiding taking cash as a form of payment.
Yet, despite the drive to become cashless, industries that attract audiences across various economic situations – like sports stadiums, airlines, eateries and merchandise stores, continue to see the predominant use of cash amongst young, elderly and "unbankable" consumers.
Many states and local laws in the US also require merchants accept cash to avoid discrimination against those who can't afford to have a bank account.
Therefore, significant investments in technologies that support Payment Choice, such as reverse ATM's, cash recyclers, and similar equipment, continue to be necessary.
Retailer insights
Ricoh surveyed a wide range of retail managers and executives, with most establishments including an average of 26-100 stores and annual revenues of $100K - $1.5M. The top two outlet types were Supermarkets and General merchandise stores.
Those surveyed reported that 26% to 50% of store transactions are made in cash, with most cash purchases in the $10 to $50 range.
When asked why their stores continue to accept cash payments, the most common reason was "A large percentage of customers are unbankable/need to use cash" and "Government mandates."
Almost 68% said their city or state requires retailers to accept cash. Security and privacy were also a driving reason for accepting cash.
Even so, when asked if they think the US is headed towards a "Cashless Economy" in the next 10 years, the overwhelming answer was yes.
Pandemic impact on retail payment practices
Many retailers added digital shopping enhancements because of the Covid-19 pandemic. The most added methods were: Buy-Online-Pickup-In-Store (BOPIS), curbside pickup, home delivery, and forms of ecommerce.
An overwhelming 88% said they plan to keep these digital shopping enhancements post-pandemic.
72% of responders said that they are experiencing a labor shortage, which supports the use of these digital shopping enhancements.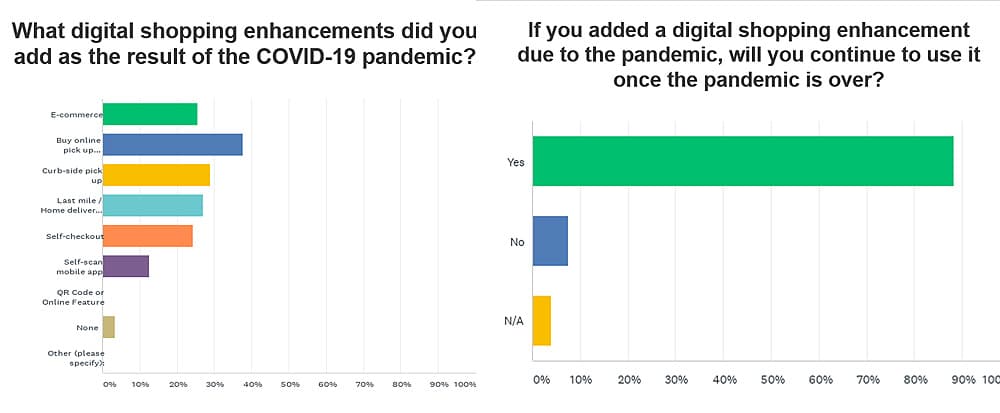 Cash management and technology
The primary concerns about the management of cash and currency at retail locations include: 
Counterfeiting

Cash shrink/theft

Cash leakage/control issues

Concerns for potential employee errors and safety. 
"Managing the total daily cash intake" and "Limited or poor-quality transaction devices" were cited as today's biggest struggles amongst retailers.
The most popular cash management technology currently in use includes automated cash recyclers, ecommerce, and ATM's.
At the same time, mobile phone checkout is on the rise, as well as POS keypads/card readers or tablets. Surprisingly, bitcoin/cryptocurrency kiosks are more prevalent than self-checkout. Most retailers reported they will invest in technology to keep current with industry trends and customer behavior, such as the growing interest in mobile phone checkout, self-scan mobile apps, and various methods of consumer self-checkout.
A large portion of retail respondents report they are planning to adopt or implement new cash handling or payment technologies with the year, or within the next 2 years, and have an expected budget of $100K to $500K for that new equipment. Most are interested in leasing new equipment versus purchasing it.
Ricoh Service Advantage works with retail businesses and retail technology providers to make it easier for you to support your technology investments, drive innovation, automate processes, and improve the experience for your customers. Contact Ricoh Service Advantage to learn more about support for your automation, robotics, point-of-sale, or currency handling equipment.