Should your in-plant install a web-to-print solution?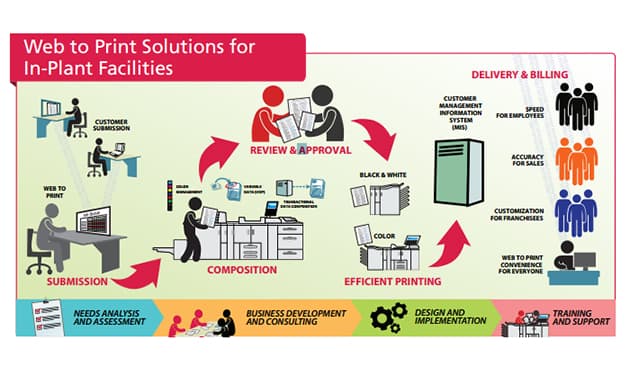 As manager of an in-plant, you are looking for ways to streamline processes.
Let's start at the beginning – how do your customers do business with you? It's likely that your day-to-day can involve one of these two scenarios:
You support a company where work comes in from a stable group of internal employees or systems. Work is regular, expectations are predictable, workflow is not always top-of-mind – until something goes wrong. You have your customers, but there are many more potential customers out there.
You may run a university in-plant, where jobs come in from all sorts of departments, faculty, staff and thousands of students who move on every four years or so. There probably are many jobs, and many front doors (email, FTP, hard copy, etc.). Work often arrives with incomplete production information, and the labor required to produce the work is significant, as are the error rates.
Face it, both scenarios leave room for efficiency increases. And when the jobs go to production, operators must make assumptions in translating the client's intentions into a set of activities: Make ready, imposition, color management, and paper/media selection. If they guess wrong, the client may reject the piece, creating rework and a poor impression.
For those of you who do not enjoy the first right of refusal, this is an easy way to lose a client.
Recognizing these shortcomings, you set out to improve the incoming job flow and jot down ideal characteristics: Fast, efficient, error-free, affordable, reliable, easy to install, easy to operate. When you finish, you toss down your pencil and wonder if such a solution exists. Does it?
The short answer is, yes. An automated, web-to-print solution will do most everything you want at a price you can afford.
The dilemma is sorting through the wide range of solutions on the market. Chances are, you'll want an expert's opinion. Whether you work with a partner or go it alone, here are five important basics that define a professional web-to-print strategy:
1. User friendly
It must be a simple solution that's powerful enough to handle the variability of your requests. Fewer clicks, templated workflows – a welcoming front door.
2. Open architecture
The system connects seamlessly and is flexible enough for future growth. Will you add wide format, new finishing or multi-channel distribution capabilities?
3. Cross-system communication
The web-to-print portals can communicate with other pieces of your management information system. User authentication? EDM? Billing/chargeback?
4. Hands-free manufacturing
It eliminates the majority of manual touch points, allowing you to get the work done correctly and quickly.
5. Rules-based automation
It has rules that apply conditional logic to unique tasks to ensure that your production staff makes informed decisions.
With jobs flowing into your shop routinely, quickly, and error-free, you can shift your focus to the next phase of the business — workflow.
Find out if web-to-print is the way to go
Are you ready to learn about consulting services that can help you determine how to best handle incoming job flow?
Learn more

Ryan Kiley is Director, Strategic Production Services, Production Print Printing Business Group, Ricoh USA, Inc.. With expertise in software engineering, Kiley designs and implements software portfolios that help customers realize the maximum benefit of their investment. He is also a member of Ricoh's Global Marketing Center where he assists in bringing services initiatives to a global audience.