How to stay connected with a remote workforce
Summary
Ways to keep your remote workforce engaged.
Read time: 4 minutes
In 2020, the remote workforce dramatically expanded across the United States in response to the shutdowns.
The following Google Trends graph for the search term "videoconferencing" illustrates the point.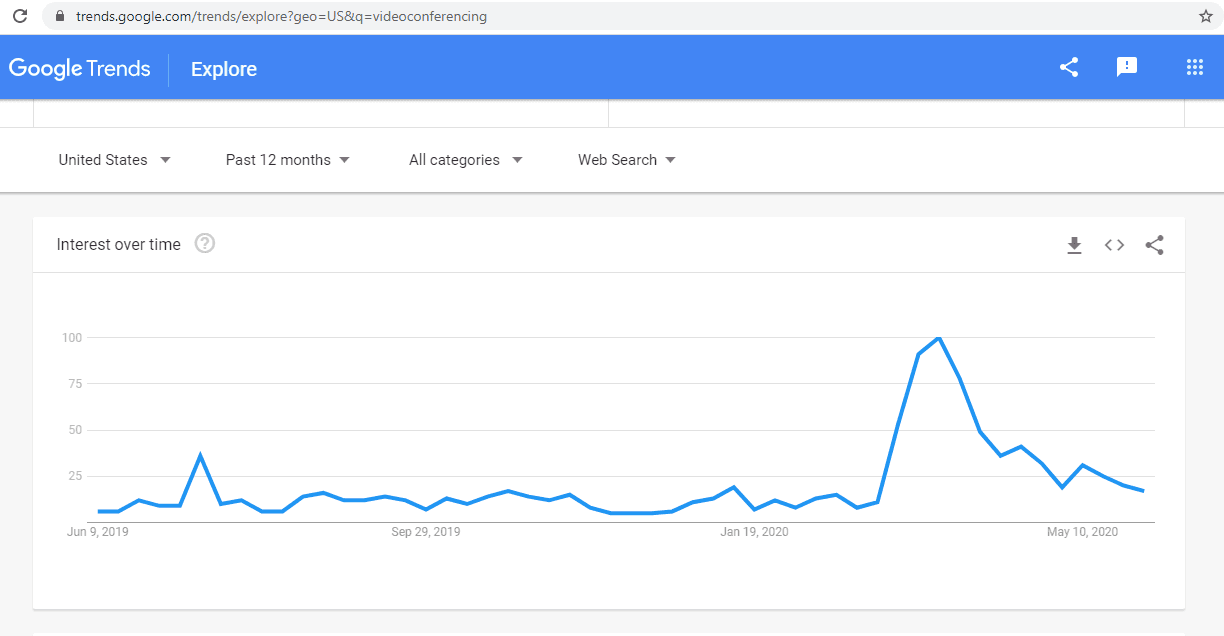 There was 2020 going about its business – then zip! – March 2020 arrives and videoconferencing spikes as a search term. Why?
Because, as so many discovered quickly, staying in touch requires more than a smartphone.
Unexpected disruptions working from home with the kids, homeschooling, and dramatically changing customer needs made meeting with teams essential to stay focused and on task – wherever we were working.
To stay connected and meet and keep business moving, we needed more. So, video conferencing demand spiked.
Yet, research shows that meaningful communication and collaboration with a remote workforce can present a challenge. Quite simply, far too many remote workers don't feel connected to their organizations. As a result, productivity and communication suffer.
To empower your workforce, you need tools specifically designed for collaboration to meet every employees' unique and specific needs, even beyond basic videoconferencing.​
Sharing information is easy with remote collaboration tools that make use of the cloud. And it takes powerful tools like these, intended specifically for business communications, to make collaboration and project management over a long distance as interactive and productive as meeting in person.
Voice over IP phones that give flexibility to your business phone system and ensure everyone gets their call, wherever they are.

Automated workflows via document management to keep processes moving and people productive.

Project management tools to organize material, manage due dates, adn keep everyone up to date and on task.

Virtual desktops that allow employees to access their business applications from anywhere.
You can read more about keeping your business connected and secure in our article, "Provide secured remote access to employees while balancing IT costs."
Engage your remote workforce and stay connected
Sometimes, it can be easy to think that remote and mobile workers have what they need. The best way to be sure is to ask them because if they don't, productivity and collaboration suffer.
Whether you're expanding your remote workforce or seeking to better equip the one you have, you need to give direction and support. This requires you to organize, equip, and empower with scalable technologies that bring everyone together, just as if you were in an office.
If you're not sure where to start, create a survey and have your people fill it out. It's a great way to identify their greatest pain points. You may well find that the challenges facing your remote workers are the same as those facing employees who work in the office.
Fortunately, technology today makes it possible to connect your teams wherever they are working.
Have questions or need a solution to make your business-friendly for remote workers? Contact us. Our experts and consultants are here and ready to help.
1. https://slackhq.com/report-remote-work-during-coronavirus
Recommended for you
3 ways to secure information in hybrid workplaces
3 ways to secure information in hybrid workplaces
Safeguard information from cyberattack in hybrid workspaces with remote technology services including employee training, data encryption, and top digital solutions.
Digital Workplace: Definition & Complete Guide
Digital Workplace: Definition & Complete Guide
Implement a digital workplace that gives your business the scalability and flexibility you need to stay competitive. Learn from the experts at Ricoh.