Efficient business processes help your green initiatives
​Through better print management, it is possible to both reduce costs and have a positive impact on the environment and sustainability.
There's a business case to be made for going green: It saves lots of green — money and trees. By tapping into modern technologies, your business is more sustainable, it helps the environment and it becomes more efficient and competitive.
When you think about printer fleet operations, eco-friendly practices like recycling paper, printing in duplex, and consolidating office equipment to increase the number of users per device probably come to mind. All good steps to take, especially when you consider the facts about paper processes:
Average number of paper sheets used by an office worker annually: 10,000 [1]

Number of times the average document is copied: 10 times [2]

Number of sheets of paper U.S offices use every year: 12.1 trillion [3]
Our equipment features energy-saving options like Sleep Mode and Quick Start-Up, and resource-saving options like automatic duplexing. While these features go a long way towards sustainability and eco-friendliness, there's much more that you can do.
More information, less paper
Through better print management, it is possible to both reduce costs and have a positive impact on the environment and sustainability. Print management provides a layer of intelligence over your output devices that eliminate excess, leveraging technology to print fewer pages while also improving productivity.
Considerable cost savings
Some businesses hesitate to use electronic document management due to their attachment to hard-copies. But having a culture that's addicted to paper breeds costs and waste: Employees may be printing single-sided or printing every job in color. You may not know who's printing what and when. And your IT staff may be spending too much time on device management and maintenance.
Having the right technology in place makes it easier to let go of the paper. For example, Managed Document Services (MDS) alleviate inefficiencies, eliminate wasted paper, bring improvement to those areas that matter most — and relieve you from the burden of managing printing and other document tasks. MDS provides the right information at the right time in the right form, and it gives you a single point of control to oversee and manage output:
Authenticate users, so they can only print what's necessary.

View printers, IP addresses and status alerts.

Direct print to the most cost-effective devices.

Default to black-and-white printing.

Generate reports and compare performance to service level agreements (SLAs).

Gather data about utilization, usage patterns and more.
With MDS, you have the optimal information infrastructure for your document-related processes. Electronic documents are faster, more accurate, can be delivered automatically and won't be lost or damaged. That, coupled with materials savings, can trim costs significantly.
How green are your processes?
MDS also provides a baseline environmental impact analysis that can include electricity/paper consumption and its associated CO2 footprint. This analysis provides:
A greater understanding of the environmental impact of your current state.

The fiscal impact of your operating procedures and document management processes.

The savings you could realize.

A roadmap to support your environmental initiatives.
Document workflow: Go with the flow
For most organizations, there is a growing need to automate archaic document workflows that are paper based and have evolved to be part of their culture. Despite all the technology available, document-intensive, paper-centric workflows remain –— and manual paper trails are often riddled with errors and delays.
If your workplace is filled with folders packed with paper that is shuffled from person to person, it's highly likely you have an opportunity to automate workflows and eliminate paper. Workflow automation can help simplify many common manual processes you perform every day.
In concrete terms, workflow optimization means taking a common repeatable process and automating it to make it more efficient. With the right workflows in place, there are no excess copies of documentation for files, files are routed electronically rather than making hard copies, and employees don't have to walk files to coworkers.
With workflow automation, you can:
Streamline processes to remove extraneous and duplicate steps.

Access the latest version of a project any time, so team collaboration happens seamlessly.

Track and log changes, so everyone stays on top of the latest developments.

Simplify the approval process.

Remind users of tasks at hand with email notification alerts.
Automated electronic workflows ensure that your work is completed at the right time, by the right person and gives you full insight and traceability into your business processes.
Lean and green
The technology choices you make for your printer fleet directly impact your business in terms of sustainability, reducing costs and streamlining processes. At Ricoh, we are dedicated to helping make your business more sustainable while helping the environment. And we practice what we preach. Learn more about our own sustainability initiatives.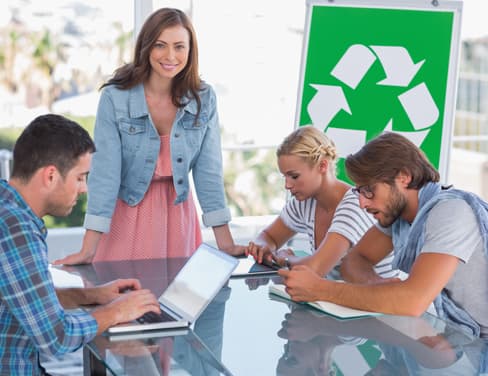 Use technology to improve sustainability
Your printer fleet technology plays a key role in business sustainability — we can make it better.
1. "Paper use statistics." Statisticsbrain. http://www.statisticbrain.com/paper-use-statistics/
2. "Paper use statistics."Statisticsbrain. http://www.statisticbrain.com/paper-use-statistics/
3. "Paper waste facts: Paper comes from trees." TheWorldCounts.com. http://www.theworldcounts.com/stories/Paper-Waste-Facts