Intelligent Locker Systems
Digital smart lockers offer a scalable electronic locker solution for employees and retailers.
Secured storage space has become an essential consideration for all organizations. Our Intelligent Lockers with cloud software and real-time analytics deliver an innovative combination of flexible storage and the latest connected technology for advanced storage solutions that offer 24/7 manageable access, end-to-end usage tracking, and complete management reporting capabilities for a secured and dynamically scalable solution.
Why intelligent, smart lockers?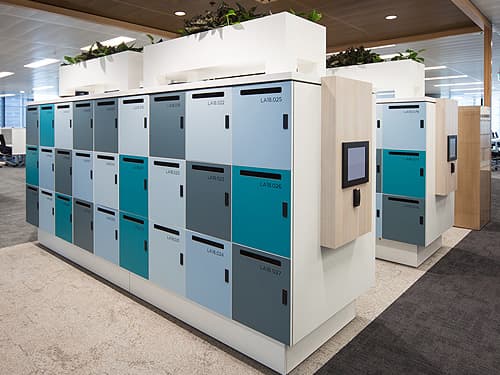 Day lockers
A corporate mailroom can receive hundreds of packages every day. Retailers and their customers adapting to health and safety protocols continue to evolve contactless pick-up. Employees need ways to store personal items when out of the office, such as protective gear.
Packages can be stored in digital lockers for onsite and remote employees or customers to pick-up. Use it for consumables management, verifiable package delivery, asset control, real-time retail fulfillment, or any effort involving the exchange of packages and parcels.
Custom digital locker solutions for every business need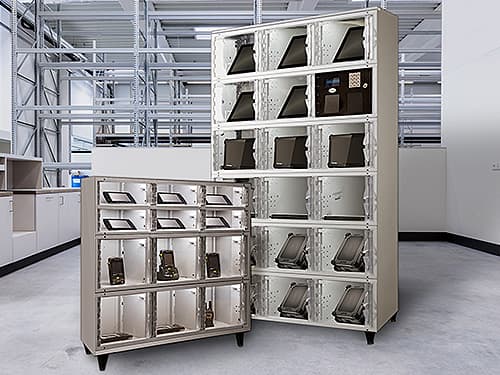 Inventory and asset management lockers
Our Intelligent Locker services are not a one-size-fits all solution. Whatever your corporate or retail need, we custom match our electronic locker systems to ensure you get the right solution. Some of our intelligent locker services include:
Consumable management services. As consumable smart bins, you know what assets need replacing and when to reorder.

Asset control services. Take total control over assets to know when something has been checked out, how long it was checked out for, and when it was returned.

Retail fulfillment services. Meet the needs of customers who want to buy online and pickup in-store by making it possible for customers to pick-up their order the same day, with contactless service.

Parcel delivery locker services. Provide a secured space for employees to retrieve and store packages.

Day locker services. Give your employees a secured place to store their personal belongings like personal protective equipment (PPE) and cleaners when in the office.

Contactless reception. Store visitor badges where they can be accessed individually and make returning them safe, along with giving visitors a place to stow their belongings, as needed.
Ensure faster package delivery with real-time asset availability
Mail and parcel lockers
We know large remote or hybrid workforces challenge package and parcel delivery, especially with variable mail quantities. You'll find managing both the fluctuating volumes of mail and the shifting workforce easier when onsite and remote employees have a secured place to receive their packages.

As packages arrive, the package management system:
Registers each one into a cloud-based platform, scanning and assigning a smart locker and a release code.

Sends an email to the recipient with the relevant information, so the employee can pick-up the package(s) when convenient.

Records and stores the transaction data for tracking, reporting, and analysis.
Make Buy Online Pick-up In-store (BOPIS) hassle free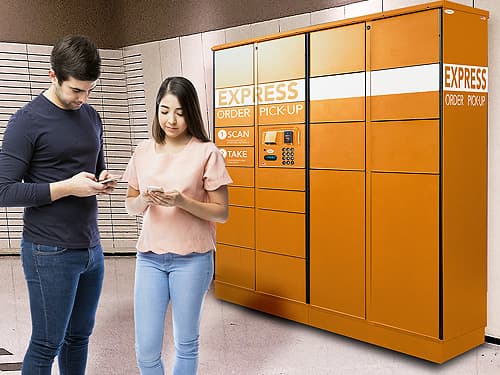 Retail lockers
Connect and Go cloud software makes contactless in-store package pick-up simple. The software works seamlessly with a customer's existing mobile device to support and manage delivery of customer purchases.
Whether you have a corporate or retail need, our representatives can help you get the exact smart locker configuration, setup, and support you need.