Empowering healthcare digital transformation
Six key areas of opportunity to transform your healthcare system.
The healthcare environment is constantly evolving and transitioning to value-based care, which means healthcare systems are facing obstacles that until now have not been properly addressed: manual processes, inaccessible data, lack of collaboration and rising costs. The results? Impaired patient communication, an inability to comply with changing regulatory mandates and difficulty balancing security and risk with efficiencies and outcomes.
Our healthcare solutions focus on six key areas that can have an impact across your healthcare system, so you can take care of people while taking care of the bottom line.
Patient and associate experience
Empower patients and care providers.
Today, reimbursements depend on patient satisfaction scores. As a result, you must focus more than ever on the patient experience. Are patients happy with their care? Or do they face long wait times, filling out too much paperwork, lack of communication with their providers and duplicate testing? Equally important, is your care team happy and satisfied with the tools they have to provide excellent customer care? Are they able to easily collaborate?
Ricoh helps you improve the patient journey – and the caregivers' role, from preregistration through discharge and continued wellness.
Manage patient flow & decrease wait times.

Improve collaboration so the care team can focus on treating patients.

Improve secured access to patient records.

Target & market to specific audience segments.

Personalize communications.
Resource and capacity utilization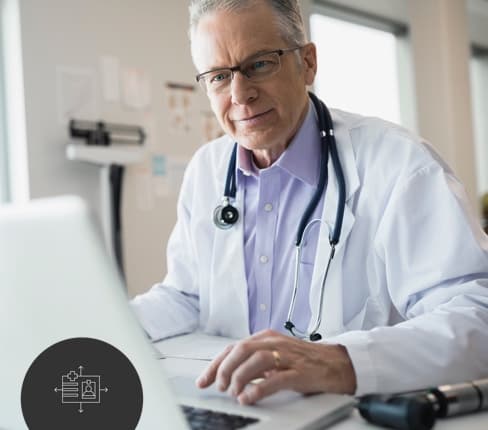 Work smarter, not harder and do more with less.
As healthcare costs continue to skyrocket while reimbursements decrease, healthcare systems can no longer afford to attempt to solve resource and capacity issues by simply hiring more employees and buying more equipment.
We can help you find ways to be more efficient, to do more with less, improve productivity, reduce human error and improve operating margins.
Automate manual paper-intensive processes to reduce errors.

Digitize records and leverage information across the care continuum.

Govern information for accurate, secured data.

Transition billing and reimbursements to complete the revenue cycle efficiently.

Outsource ancillary yet critical functions like claim processing and forms management, so care teams can focus on patient care.
Care collaboration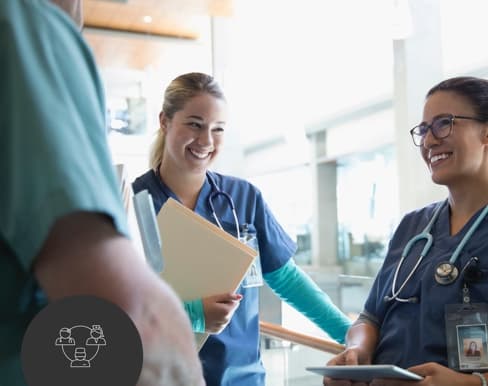 Get information to people, where, when and how they need it.
Patients' health information needs to move with them seamlessly through the continuum of care. When providers along the continuum of care are connected and able to easily communicate, patients receive better care, in a more efficient and hassle-free manner. We can help you manage data efficiently and provide powerful collaboration tools.
Ensure accurate and timely availability of critical patient information.

Make collaboration among medical professionals easy.

Connect remotely to specialists and offsite teams.

Bridge distance with visual communications tools, such as Interactive Flat Panel Displays.

Ensure accurate, secured & always available patient information.

Reduce avoidable human errors during transitions in care.
Shared management services & Integrated Services Center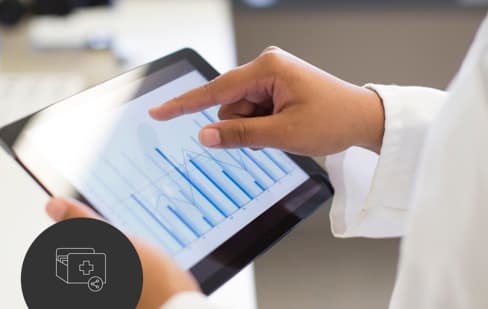 Create economies of scale.
Supporting vital communications like claims processing, forms management, billing, mailroom, AP/AR, legal document processing and more, leaves healthcare systems little time to focus on strategic initiatives. As healthcare systems continue to focus on cost management, shared services help to achieve lower costs and greater efficiencies, while supporting caregivers in their focus on patient care. With Ricoh's Integrated Services Center, your functions are banded together in a shared service arrangement, so you can:
Become more cost and resource efficient.

Focus on patient experiences.

Be nimble to exceed the rate of change.

Maintain smooth operations.
Information technology management & cloud services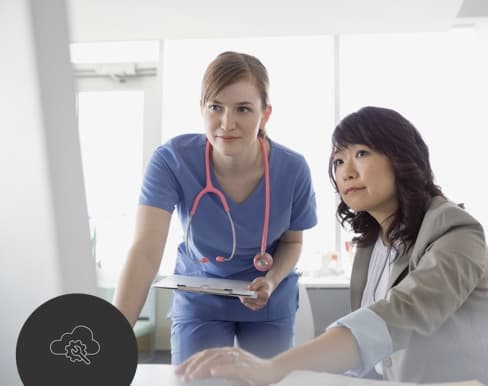 Go digital with an optimized infrastructure.
Healthcare systems need a scalable infrastructure and services that can handle increased bandwidth, storage, and other performance capacities. Cloud computing is often the answer. Our full range of services navigate all aspects of cloud. We can help you assess, identify and implement a custom solution that addresses your unique requirements.
Reduce IT complexity.

Customize applications to fit your needs.

Deliver secured access to care teams and patients.

Drive clinical and operational efficiencies.

Increase system reliability and availability.

Manage day-to-day IT operations.

Scale and become more agile as you grow.

Deploy backup and recovery strategies.
Mergers & acquisitions services
Ensure smoother integration and consolidation.
As healthcare systems continue to use mergers and acquisitions as a way to operate more efficiently and cost effectively, these consolidated health systems struggle with integration challenges, from standardization to brand management. With specialization in M&A transformation, our services have, in some cases, reduced onboarding time from two years to six months.
Help ensure synergy.

Integrate unstructured content across systems.

Standardize processes and workflows across systems.

Reduce risk and liability from aging information assets.

Eliminate redundancy of data.

Create a unified user experience.

Manage the public perception, create a unified brand and help ensure standardized messaging through multiple media outlets.
We can help your digital transformation journey
Ricoh offers a team of experts that assess, prioritize and support your complete digital transformation without losing sight of what really matters: providing the best possible care and outcomes for patients. Our services and solutions make it easier for you to efficiently capture, transform and manage information to help reduce risk, increase efficiency and improve patient care. We'll ensure you break through the bottlenecks and silos that exist today to achieve data access and sharing and successful information collaboration within and outside the four walls of your healthcare system.