Leadership Team
Meet the people who lead our company, inspire our industry and drive innovation to solve customer challenges.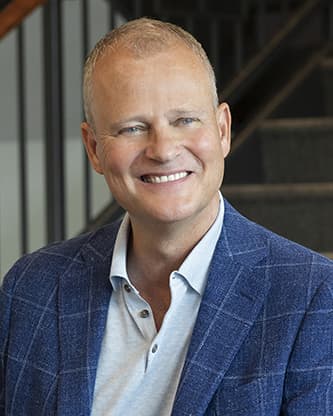 Carsten Bruhn
President and CEO 
Ricoh North America 

Carsten Bruhn was appointed President and CEO for Ricoh North America on April 1, 2021.  Bruhn brings to this role a relentless pursuit of excellence with a focus on understanding customers' needs today while anticipating changes in the future. Bruhn possesses the rare combination of proven sales experience and leadership principles that center on inspiring teammates, fostering collaboration and productivity, driving the collective team forward, and focusing on important cultural issues such as diversity and inclusion in the workplace.
Most recently, Bruhn served as Corporate Vice President for Ricoh Global Services. In this role, he managed and fostered Ricoh's relationship with its most strategic global customers. He worked tirelessly to help ensure the Ricoh leadership team understood, innovated, and responded to customers' unique needs by helping solve their problems. He focused on empowering customers to embrace digital transformation and built strategies to work with Ricoh's best-in-class partners to enable businesses to transform into digital businesses.
Under Bruhn's leadership, Ricoh's Global Major Account (GMA) channel experienced growth by attracting new customers, while also renewing and providing increased value to existing customers. In 2020, these initiatives continued to accelerate by helping customers work from anywhere with digitalization, automation, and collaboration solutions, as well as providing tools for a safe return to the workplace.
During a two-year assignment in Japan, at Ricoh's global headquarters, Bruhn led the global services transformation for Ricoh Business Solutions. Bruhn also served as Corporate Vice President and General Manager of Ricoh Global Services. Prior to joining Ricoh, he managed Lanier's Northern Europe region. After the acquisition of Lanier by the Ricoh Group in 2001, Bruhn successfully integrated Lanier's businesses into Ricoh's Operating Companies. Leveraging this experience, he understands the entrepreneurial spirit and passion that drives Ricoh Family Group dealer partners.
Originally from Denmark, Bruhn moved to the United States in 2021 after living in Great Britain for 23 years with a two-year assignment in Japan and extensive international travel supporting customers throughout the world, including North America.
Bruhn attended Henley Management College with a focus on management studies and INSEAD with a focus on finance.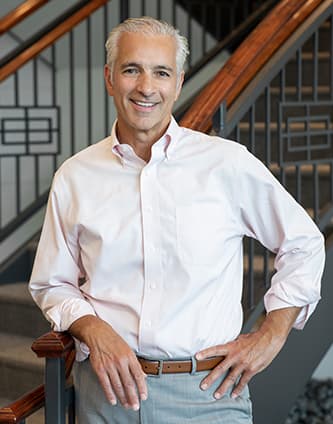 Jim Coriddi
Vice President, Dealer Division
Ricoh USA, Inc.
Jim Coriddi is Vice President of the Ricoh Family Group U.S. Dealer Division, a position he's held for the past nine years. Coriddi has been with Ricoh for 36 years, serving in various sales and marketing positions in both the field and operational aspects of the business. He has a strong background and extensive experience as a leader in both Ricoh's dealer and direct channels.
The Ricoh dealer business has grown each year and is now responsible for almost 50% of Ricoh unit sales. This success prompted Ricoh to make an unprecedented change in its SMB go-to-market strategy in May 2017 to establish dealers as its primary vehicle. Prior his current role, Coriddi was responsible for coordinating the Ricoh field integration efforts associated with the IKON acquisition. He worked closely between headquarters and field personnel to convert and upgrade the customer base while maintaining a stable selling environment for all Ricoh channels.
In 2004, Coriddi began leading the dedicated IKON Division, responsible for all aspects of sales, service, and marketing operations. Over five years, the IKON Division grew 58% to $500M annually.
Coriddi was named Vice President of Ricoh Dealer Sales in 2001, managing a network of 300+ Ricoh brand dealers to strong growth over three years in the position. Prior to that, Coriddi was appointed Vice President of Ricoh Marketing Support, in charge of marketing communications and advertising. Additionally, Coriddi led the consolidation of Ricoh's first dealer acquisition, developed and led an innovative consumables sales program, and initiated a field marketing initiative to provide training and support for Ricoh's first digital multifunction product in the U.S.
Coriddi graduated from Montclair State University in 1983 with a bachelor's degree in Communications and Marketing.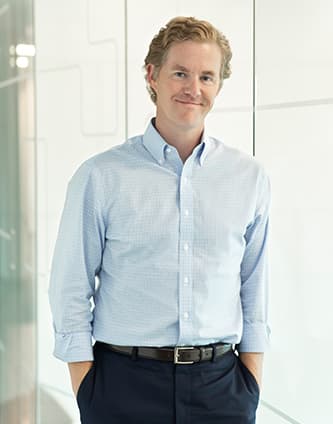 George Gowen
Chief Financial and Legal Officer
Ricoh North America
George Gowen is Chief Financial and Legal Officer for Ricoh North America. He was appointed to CFO in April 2022, expanding his role after joining Ricoh as General Counsel in June 2019. In this position, Gowen leads Ricoh North America's finance, legal, security, and risk management teams.
Prior to Ricoh, Gowen was General Counsel at Keystone Foods, a leading international food manufacturer. He served on Keystone's global leadership team with responsibility for a wide range of legal issues. Prior to this, Gowen served as Vice President and Associate General Counsel at Aramark, a global provider of food and facilities services, leading the legal function for two of the company's operating groups. Gowen also was a partner at the Cozen O'Connor law firm in Philadelphia, where he provided general corporate, compliance, and business litigation advice to healthcare, life sciences, and food industry clients.
Gowen has a Bachelor of Arts degree from Georgetown University and received a Juris Doctor degree from the University of Pennsylvania Law School.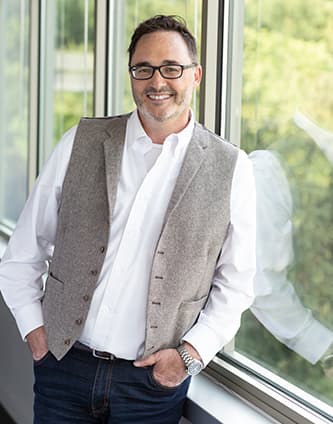 Gavin Jordan-Smith
Senior Vice President
RICOH Graphic Communications
Gavin Jordan-Smith is Senior Vice President, RICOH Graphic Communications (RGC). Appointed to this expanded global role on April 1, 2021, Jordan-Smith oversees marketing, strategy and digital transformation of the newly formed RGC global business unit, and serves as a member of the RGC global board. In addition, he also leads the RCG business within North America. Jordan-Smith possesses a customer-centric mindset and is focused on partnering with customers to help them with their digital transformation within the print industry.
Jordan-Smith joined Ricoh in 2019 and was named Senior Vice President, Commercial and Industrial Print, leading the business in the U.S. and Canada, including hardware, software, solutions, and services, after driving sales and the go-to-market strategy in the U.S. as Vice President of Commercial Printing.
With more than 25 years of proven success in the graphic arts industry, Jordan-Smith is passionate about the industry, working for and with leading technology companies, agencies, print services providers and startups. He is actively involved on industry boards, associations and educational forums driving thought leadership, vision and transformation. He has developed programs and business strategies that addressed the needs of QuickPrint, CRD, Transactional and Graphic Communications/InPlant customers, and has helped organizations transform from a traditional offset company into a full-service communications provider. He recognizes what truly drives progress, connecting with people and delivering results. As a brand, sales, and marketing transformation leader, Jordan-Smith believes that connections to customers ultimately lead to positive results.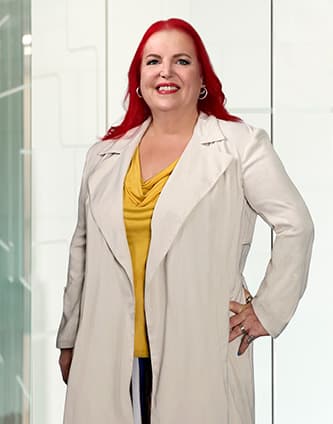 Dr. Marlene Kolodziej
Senior Vice President, Service Delivery
Ricoh USA, Inc.
Dr. Marlene Kolodziej was appointed Senior Vice President, Service Delivery at Ricoh USA, Inc. on October 1, 2022. Under her direction, the organization executes on the company's digital-first approach, providing customers with unmatched value in a variety of areas encompassing Ricoh's managed, professional, and IT services.
Dr. Kolodziej joined Ricoh in 2019 as Vice President of Centralized Services, quickly impacting the business by building and unifying teams dedicated to service and supplies, device management, ITS support, eDiscovery, technical services, and quality management. She also successfully established a global support model for Ricoh spanning the U.S., Poland, Spain, Uruguay, Malaysia, and South Africa.
A recognized leader in the development and implementation of customer-focused transformative technology and support solutions, Dr. Kolodziej possesses more than three decades of experience encompassing end-user support, personal computing and technology, mobility, infrastructure, network, data center, programming/development, applications, and LEAN/agile transformation. With exposure to the chemical, publishing, finance, data retention and storage, and healthcare industries, she has successfully led global technology and business teams to implement innovative client support solutions that have increased standardization, strengthened organizations, and decreased maintenance costs.
Prior to joining Ricoh, Dr. Kolodziej most recently served as Assistant Vice President of Service Delivery for Northwell Health, New York's largest healthcare provider, where she was responsible for field support, help desk, video and web conferencing, mobility, telehealth, and innovation. Among her many accomplishments, Dr. Kolodziej helped create strategy for and operationalize the Health Information Technology Innovation Center (HITIC), a collaborative environment where many ideas were brought to life, including a 3D-printed, amphibious prosthetic leg that was named one of Time Magazine's Best Inventions of 2018. She also developed an enterprise-wide device strategy roadmap to deliver and support mobile technology that improved clinicians' ability to provide care, and enhanced patients and families' access to information and services critical to their health and well-being.
Dr. Kolodziej has a bachelor's degree in Information Sciences from University of Phoenix, a master's degree in Business Administration from Holy Family University, and a doctorate degree in Business Administration from Capella University.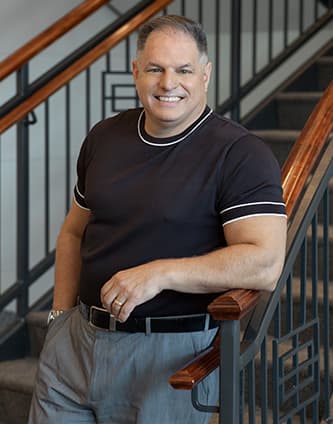 Bob Lamendola
Senior Vice President, Technology and Head of Digital Services Center
Ricoh North America 
Bob Lamendola was appointed to Senior Vice President, Technology and Head of Digital Services Center in June 2021. He is responsible for creating a clear strategy and identity for Ricoh's Digital Services portfolio, unifying Service development and innovation to enable efficiency and agility, and aligning and prioritizing resources with a customer centric focus.
Prior to this role, Lamendola served as Vice President, Infrastructure & Engineering Services, where he led the evolution and optimal utilization of our Services Delivery infrastructure, technology, processes, systems, and solutions. Additionally, Infrastructure and Engineering Services focused on providing technology leadership and escalation support across Ricoh's Services portfolio, including IT Services and Service Delivery Innovations, to maximize customer value. Lamendola has led all aspects of Ricoh's IT Services infrastructure – from engineering and design to the daily operations of those environments.
With Ricoh for more than 15 years, Lamendola has held numerous leadership roles within the IT Services organization including management of the Managed Hosting, Application Development, and ITS Infrastructure and Support teams.
Previously, Lamendola served as the Vice President, Information Technology, at an international semiconductor manufacturer.
Lamendola holds a Bachelor of Science degree in Computer and Information Science from Bloomsburg University.
Lauren Sallata
Chief Marketing Officer
Ricoh North America 
Lauren Sallata was appointed Chief Marketing Officer (CMO) for Ricoh North America in June 2021. She brings more than 20 years of experience to the role as an award-winning marketing professional and executive leader. She has successfully led large, global technology organizations through brand and digital marketing transformations all with a focus on the customer experience, increased engagement and significant, sustainable growth.
Sallata joined Ricoh from Panasonic Corporation, where she most recently served as Chief Marketing Officer in a unique role leading North American marketing while also involved in global strategy in Japan. Under her leadership, Sallata led the marketing transformation in North America, redesigning brand and digital strategy to align with the organization's new business positioning. She repositioned the brand from consumer to a holistic provider of B2B integrated solutions. Sallata increased overall purchase intent and awareness, developed regional and global brand strategy for long-term positioning among Millennial and Gen Z buyers, and launched a best-in-class marketing technology strategy and customer engagement platform. During her time at Panasonic, Sallata received many industry awards and honors, including: 2020 ITSMA Marketing Excellence Diamond Award in Transforming the Brand; 2018 ANA B2 'Marketer of the Year' top three finalist; and two 2017 Stevie Business Awards for B2B Campaign of the Year.
Prior to Panasonic, Sallata held leadership positions at Xerox Corporation from 2008-2016, including Vice President of Business Development & Marketing where she led strategy and execution for the corporation's rebrand and enterprise portfolio project. Her early career was spent at Verizon Business in several Senior Management roles where she led marketing and sales strategy for high-growth business units, managed client relations and P&L contract operations.
Sallata's expertise in adapting and thriving during massive change is a consistent thread and key driver for her. She shares her knowledge widely through thought leadership, which has been featured in publications such as The Wall Street Journal, Forbes, Advertising Week, and Advertising Age. She has been a member of several corporate and industry boards throughout her career, currently serving on the Board of Trustees for the Consumer Technology Association.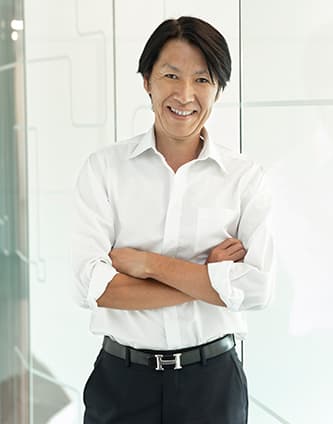 Shark Samejima
Senior Vice President & Chief Strategy Officer
Ricoh North America 
Shark Samejima is Senior Vice President and Chief Strategy Officer for Ricoh North America. Drawing on more than 25 years of experience in management, sales, and marketing positions, Samejima is responsible for Ricoh's corporate strategy and direction in the U.S. and Canada.
Most recently, Samejima was Senior Vice President, Strategic Planning and Marketing. Prior to that, he held the role of General Manager of Regional Marketing for Ricoh Company, Ltd. in Tokyo. With responsibility for developing global strategy for Japan, the Americas, EMEA, and Asia-Pacific regions, Samejima led structural reform among each region as well as growth plans for the U.S. From 2008-2013, Samejima worked in the U.S. serving as Director of Solutions Marketing where he successfully launched Ricoh's Integrated Cloud Environment (ICE), and was granted a patent for cloud technology that enabled a variety of MFP functions via the Internet.
From 1996-2008, Samejima held positions in Japan where he led domestic marketing strategy, and introduced an integrated services portfolio that has helped Ricoh's IT Services grow into a highly profitable business in Japan. He began his career at Ricoh in 1993 as sales representative in Japan focused on SMB accounts.
Samejima has a Bachelor of Business Administration degree from Meiji University in Japan.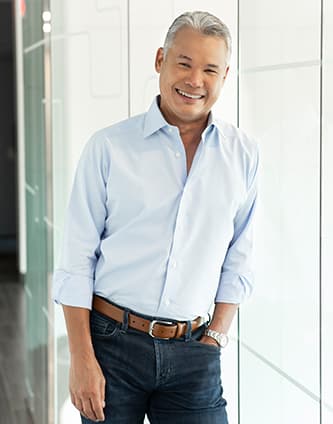 Peter H. Stuart
Executive Vice President, Office Solutions Business Group
Ricoh USA, Inc.
Peter H. Stuart was appointed Executive Vice President, Office Solutions on April 1, 2017. He leads the Office Solutions Business Group with oversight of all sales organizations for Ricoh in the U.S. A highly skilled, multicultural executive who has built high-performing, results-orientated teams, Stuart drives a strong sales organization to further grow Ricoh's market-leading position while delivering its unique services-led value to customers.
Most recently, Stuart served as President and Chief Executive Officer, Ricoh Latin America, where he ran an aggressive growth strategy for the highly diverse and complex Latin America region. Appointed to the role in 2010, Stuart assumed governance over 12 direct legal entities, 53 branches, 22 distributors, more than 750 dealers, and two distribution centers.
Beginning his 25-year career with Ricoh as a Sales Representative, Stuart was quickly promoted into leadership, serving as General Manager in several Latin American countries. He later became Director, and was Regional Vice President for a range of divisions in the U.S. before becoming President and CEO of Ricoh Latin America.
Stuart graduated from the University of South Florida with a bachelor's degree in Marketing. He is fluent in both English and Spanish.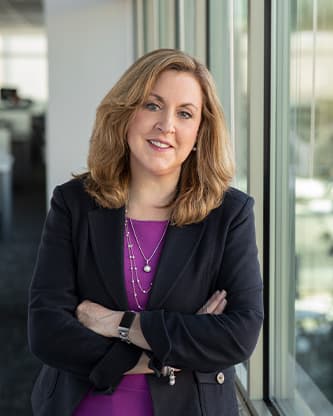 Donna Venable
Executive Vice President, Human Resources and
Deputy General Manager, Shared Services
Ricoh USA, Inc.
Donna Venable is Executive Vice President, Human Resources for Ricoh North America, a position she's held since 2015. In this role, Venable leads all HR functions and activities in the U.S. and Canada. She also oversees Ricoh's Order Management, Process Improvement, and Supply Chain operations as Deputy General Manager of Shared Services, a role she took on in 2017. She is an accomplished professional who has been key to Ricoh's transformation to a services-led organization and aligning Ricoh's worldwide HR efforts.
Previously, Venable was Senior Vice President, Human Resources for Ricoh after holding the same role for IKON Office Solutions before its acquisition by Ricoh. She had more than 14 years of HR experience with IKON, and has 26 total years managing HR functions. Venable also served as Vice President, Human Resources Shared Services at IKON, and previously held HR roles with Doubletree Hotels and Guest Quarters Hotels.
Venable is a graduate of Franklin and Marshall College in Lancaster, Pennsylvania. She is engaged in the HR community serving as a board member of the HR Executive Alliance and co-chair of the HR Executive Summit, Pennsylvania and New Jersey Chapters. She has presented at industry speaking engagements focused on leadership and employee development, and has been featured in Chief Learning Officer magazine.