Innovation sets us apart
Revolutionizing and redefining the modern workplace.
Our mission is to imagine change, to create something different, something better — to deliver smarter ways to work. For nearly 80 years we've been transforming the way people work with breakthrough technologies, products and solutions that help businesses grow. And with our drive for innovation, creativity and ingenuity, we'll continue to help you create a blueprint for success.
2020
The pandemic of 2020 created one of the most challenging business environments. All facets of our business turned attention to helping our customers and our community to find the solutions needed to adapt and keep each other safe.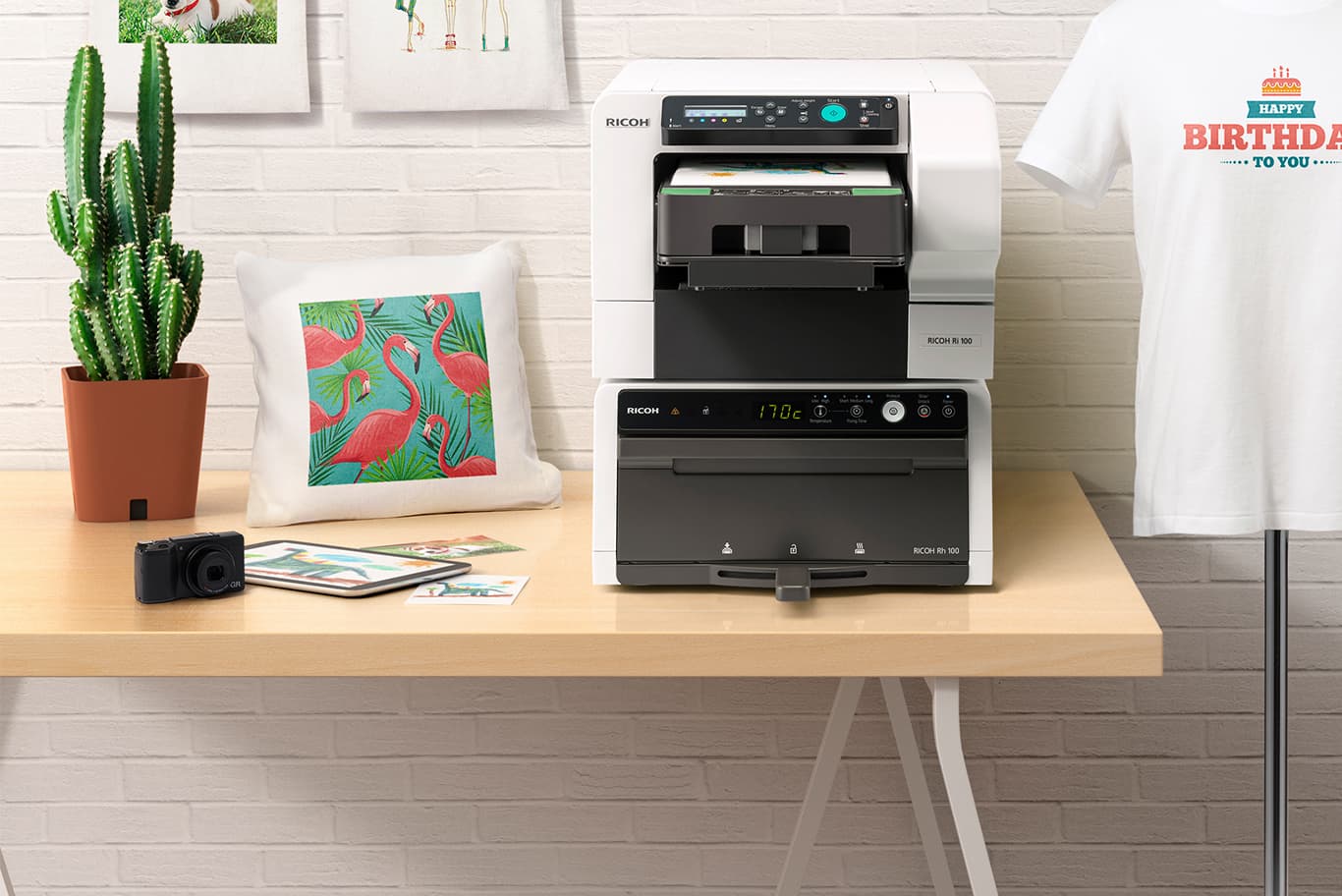 2019
Ricoh's first series of intelligent multifunction printers (MFPs) are unveiled with RICOH Always Current Technology, delivering firmware updates and device feature enhancements on demand.
Ricoh announces RICOH Intelligent Voice Control leveraging Amazon's AWS Alexa for Business service to bring voice-activated controls to Ricoh's intelligent devices.
2018
Ricoh named a CES 2018 Innovation Awards Honoree for the RICOH Ri100, a Direct-To-Garment (DTG) printer.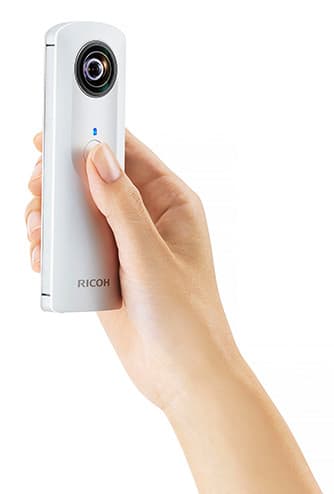 2016
President Obama is featured in his first-ever 360° photo with the Ricoh Theta camera.
2014
The U.S. Environmental Protection Agency awards us the ENERGY STAR® Excellence in Energy Efficient Product Design for our contribution to designing energy efficient products and educating consumers about energy efficiency.
2013
We release Integrated Cloud Environment, our expansive cloud services solution, to provide mobile workers with instant, remote access to important content.
Introduced the RICOH Theta, the world's first mass-produced, consumer imaging device capable of capturing fully spherical images around the photographer.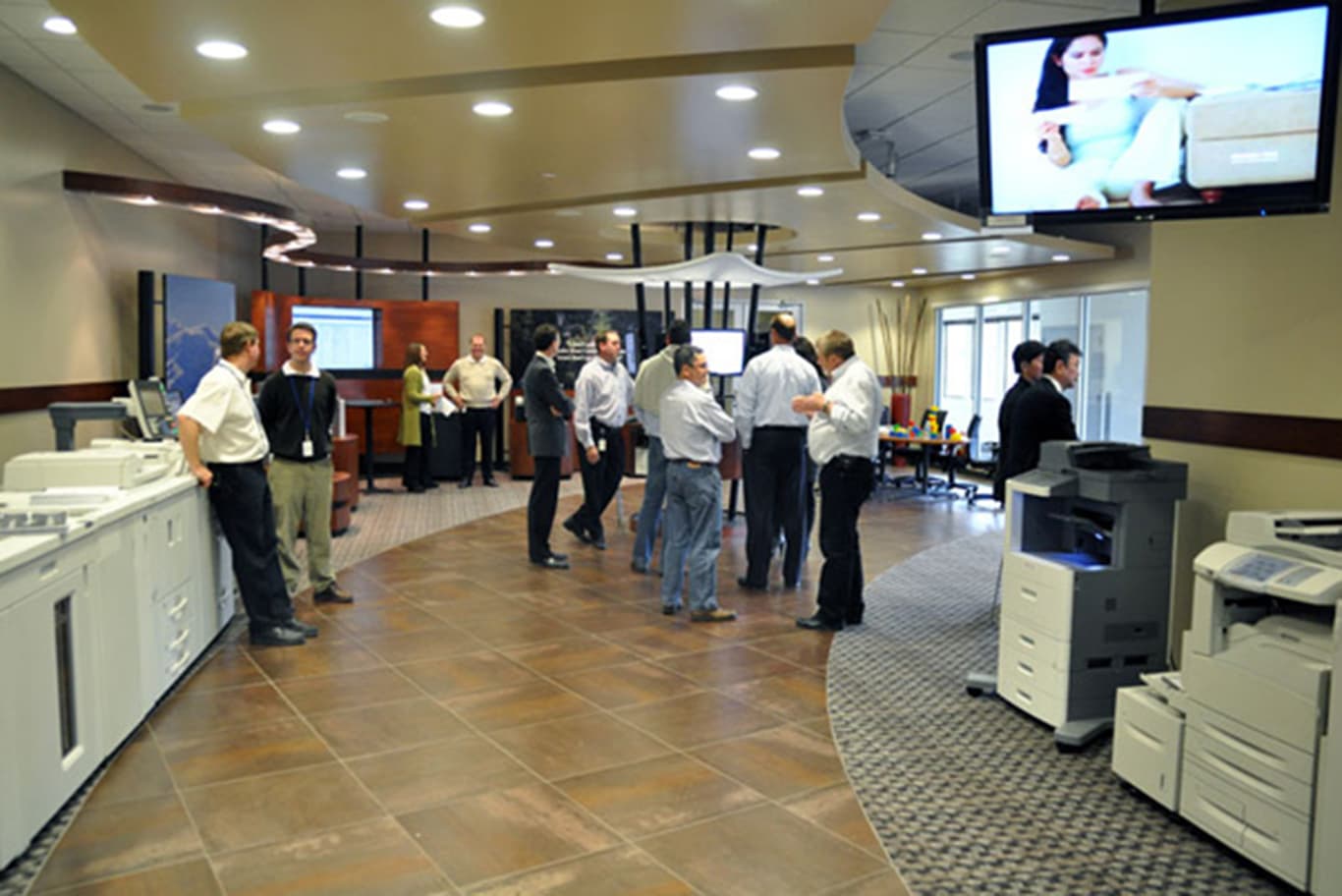 2012
Thomson Reuters names us one of the Top 100 Global Innovators based on our global portfolio, reach, overall patent volume, grant success rate and influence as evidenced by citations.

Introduced the RICOH PJ WX4130 and PJ WX4130N, the first upright ultra-short-throw projectors capable of displaying a 48-inch diagonal image at less than five inches from a wall or screen.
2010
Our Unified Communications System debuts as one of the world's smallest and lightest portable video conferencing systems.

Installs first 100% solar-powered billboard in New York City's Times Square.

1999
The International Energy Agency awards us the Demand-Side Management Award of Excellence in the Copier of the Future division for energy-saving technologies.
1996
We launch the first mass-produced CD-Rewritable drive.
1995
Ricoh introduces the DC-1, the first multimedia digital camera that records still and moving images with sound and is computer-connective.
1991
The Ricoh California Research Center develops the world's fastest color imaging compression algorithm.
1990
As the world's fastest digital full-color copier, the ARTAGE 8000 becomes the mainstream technology for color printing.
1989
We establish the Ricoh California Research Center (currently Ricoh Innovations) in Silicon Valley to develop innovative technologies and create new businesses opportunities.

RIFAX D7000, the world's first ISDN G4 digital facsimile machine, is introduced.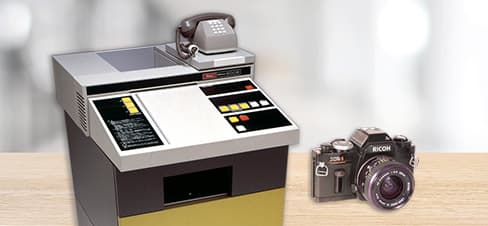 1983
RIFAX 1300, first plain paper G3 facsimile machine, is introduced.
1981
We release the first solar-powered SLR camera, Ricoh XR-S.
 1977
Coined the term "Office Automation."
1975
We're awarded the coveted Deming Prize  for our Wide Quality Control (CWQC) program — the first in the office equipment industry to win. The program went on to win the award a second time in 1979.
1974
We release the RIFAX 600S (U.S. name: Rapifax R100), the first high-speed digital fax system for office use.
1962
Ricoh starts business in the United States as Ricoh Industries, U.S.A. Inc.
1955
We launch our first office copier utilizing diazo sensitized paper, which earns us a Mechanical Engineering Heritage certificate.
1936
Ricoh Company, Ltd. introduces photosensitive paper.